Tuban Regency people's concerns about vaccines should not occur. Tuban Police Chief, AKBP Ruruh Wicaksono wanted to prove to the public that the vaccine is safe and halal.
He was included in the list of 10 vaccine recipients held on the page of Pendopo Krido Manunggal, Wednesday (1/27/2021). The inaugural vaccination also involved members of the local Forkopimda.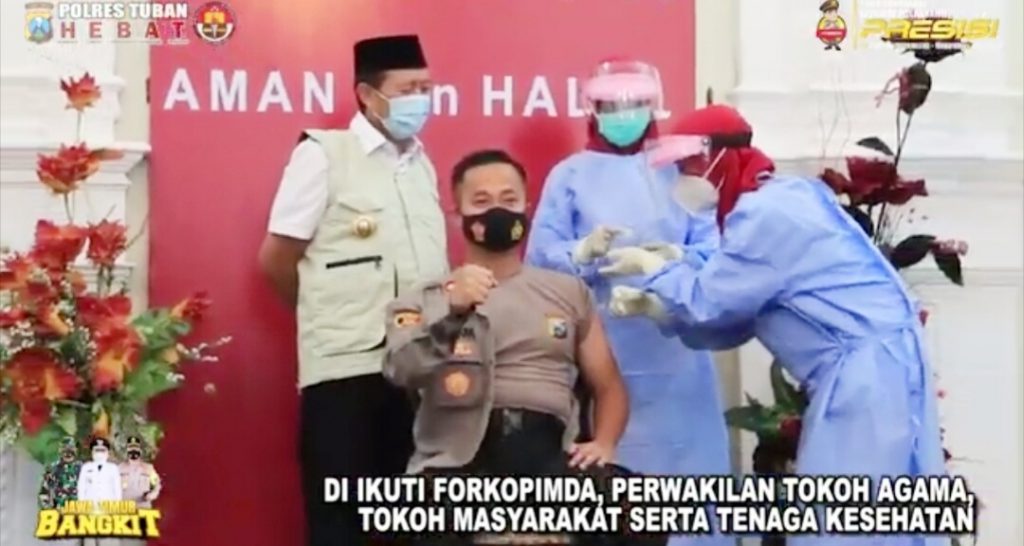 ial)
As the head of Tuban Police, AKBP Ruruh Wicaksono urged his members to maintain stamina. Meanwhile, for the members of the National Police will get a vaccine and thoroughly in the second stage.
"At this time, I ask all members of the National Police to maintain a healthy lifestyle. Rest adequately and keep stamina healthy so that later when receiving the vaccine all are healthy," said Ruruh.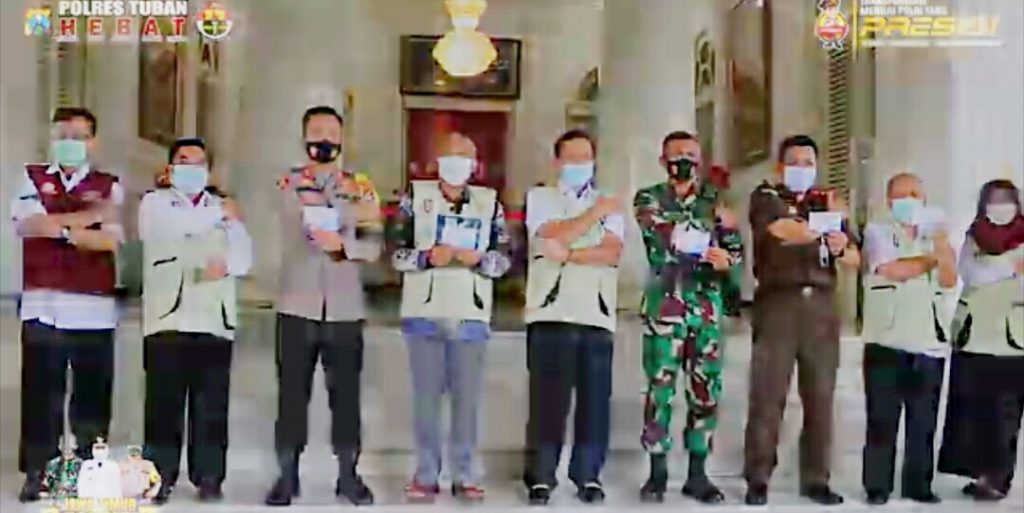 al)
Meanwhile, not only for its members, Tuban Police Chief asked the public to follow vaccinations well, especially for those who have qualified to follow vaccinations.
First, those aged 18-59 years. Second, it is that they do not suffer from concomitant or comorbid diseases. Also, Covid-19 has never been confirmed positive.
"While waiting for the right time, people who have met the requirements to receive the vaccine to be followed properly," he concluded. (*)
---
Here are the officials and figures who followed the vaccinations:
H. Miyadi, S.Ag. (Chairman of the Dprd Kab. Tuban)
AKBP Ruruh Wicaksono, S.I.K., S.h. M.h. (Tuban Police Chief)
Lt. Col. Inf Viliala Romahdhon S.E., M.I.Pol., M.M. (Dandim 0811 Tuban)
Bambang Dwi Muncolono, S.H., M.h. (Kajari Tuban)
Dr. IR. Budi Wiyana, M.Si. (Sekda Tuban)
Hj. Qodiriyah (Chairman of TP PKK, wife of the Regent)
Sri Rahayu S.Pd. (Chairman of the joint women's organization, wife of the Secretariat)
Fatkur Royak ()
Hj. Siti Syarofah (PC Muslimat NU)
Rev Iskandar Herry Utama (representative of Religious Leaders)
Dr. Husin Almasur (IDI Tuban Branch)
Drg. Ahmad Riza faruki (IDGI Tuban)
Apt. Wiwin Muhamidah Asriningsih, S. Farm (IAI Tuban)
Dr. H. Miftahul Munir, SKM. M.Kes., Die. (Chairman of PPNI Tuban)
Sumarlinah Point, SST (IBI Tuban)
---