Javasatu, Malang – Chairman of dpw East Java NasDem Party Sri Sajekti Sujudnadi visited the office of DPD NasDem Party of Malang City, Friday (1/1/2021). The arrival of Mother Janet, her friendly greeting was welcomed by the administrators with joy. Mrs. Janet gave motivation and appreciation for the program run by the administrators of DPC and DPD.
Present to welcome the Chairman of DPW, Abdul Hanan Chairman of the DPD NasDem Party malang City. Members of the Malang City Parliament Suyadi and Gagah Soeryo Pamoekti. As well as the board of DPD and DPC, especially the Chairman of dpc. The Chairman of DPW gave motivation to the administrators on the 2nd floor of dpd office in Sawojajar.
According to Brother Jes his familiar greeting, the Chairman of DPD has given a report. That the process of consolidating the structure has been carried out. In East Java, Malang city was the first area to complete the consolidation up to DPC.
"Brother Hanan has asked for the inauguration, but in 2020 we are still concentrating on the elections," he said.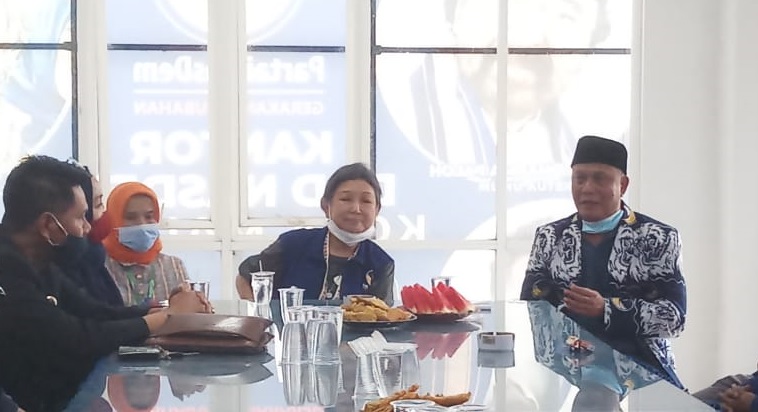 According to Kakak Jes, at the behest of DPP Chairman NasDem Surya Paloh, the party was asked to focus on the elections. In all regions, either the seats are zero to those that have the DPRD or even sit as the Chairman of the DPRD.
"Therefore our meeting in 2020 is delayed. Alhamdulillah Allah SWT allows us to meet in early 2021," he said.
In the DPD office, Brother Jes also appreciated the existence of MSMEs Corner DPD NasDem Malang City. He got a direct explanation from the Secretary of the DPD Malang City Nasdem Party Tri Agus Budi Prasetyo.
Meanwhile, Chairman of DPD NasDem Malang Abdul Hanan said he was very proud of the arrival of Brother Jes to Malang City.
"Thank you to Jes' brother for his enlightenment and motivation regarding KenasDeman to the board," he said. (ND/JS)